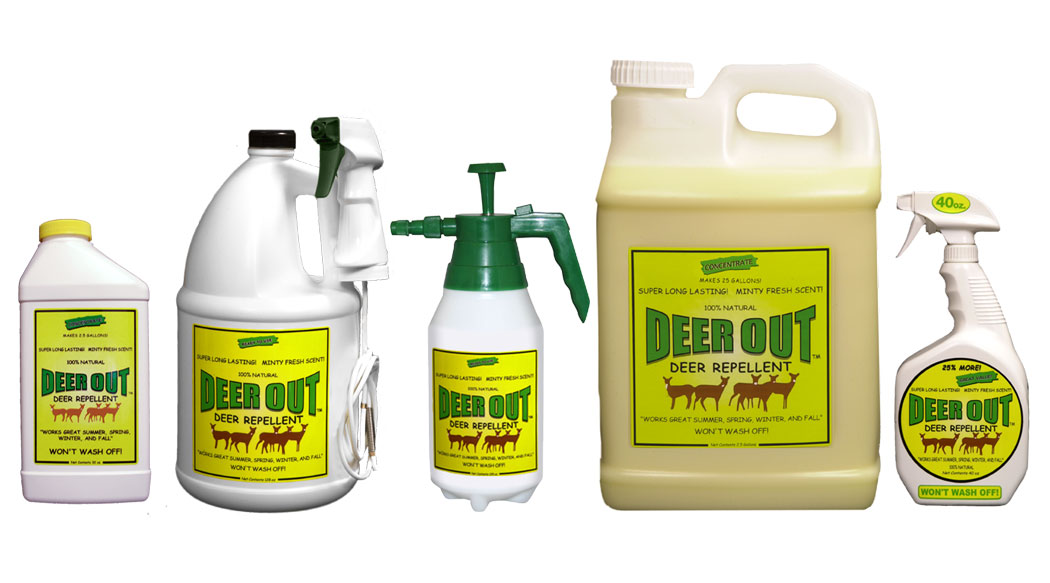 Are you tired of deer constantly getting into your vegetable garden, or destroying your flowers and shrubs? Have you been frustrated by deer repellents you've tried in the past, that may work for a few days but never last? As the saying goes, you've tried the rest—now try the best! For the past 11 years, LaTorre's Deer Out™ deer repellent has been America's favorite all natural deer repellent, for one simple reason: it works! One application of all-natural Deer Out™ will keep Deer Out™ of your yard for up to three to four months—Guaranteed to work!
If you're tired of deer making a mess of your yard, make this the season you try Deer Out™. Click here to view our online store!
Why do people love Deer Out™?
Thousands of nurserymen, landscape professionals, backyard gardeners, and commercial farmers alike choose LaTorre's Deer Out™ Deer Repellent year in and year out to effectively solve their deer problem. Our deer repellent products are guaranteed to keep deer away and there are no chemicals or poisons, making it safe around your pets and children.
Deer Out™ is available in many convenient sizes. We are so certain that you will be astonished by the results that we proudly back our deer repellent products with a 100% money back guarantee.
Be sure to check out what other gardeners from around the country are saying about Deer Out™. Click here to read their reviews.
Deer Out™ is super long lasting and can last up to 3 months or more!
Deer Out™ won't wash off!
Deer Out™ has a pleasant Peppermint fresh scent.
Our 40oz spray bottle is very cost effective. (You get 25 percent more deer repellent for the same price or less than most leading brands!)
Deer Out™ will stop deer from eating your flowers, shrubs, fruits, vegetables, & all forest and fruit trees.
Deer Out™ has been Member tested and recommended by the National Home & Gardening club with over 650,000 members.
100 percent all natural ingredients!
100 percent money back guarantee!
What makes Deer Out™ different?
Many of the other deer repellents out there rely on a bad taste to discourage deer from eating your plants. This means that they have to take a bite before they know it's bad for them! Deer Out™ uses peppermint oil, which smells minty fresh to humans but is instinctively repulsive to deer. And since they can smell it from far away, they won't even want to go near your yard.
LaTorre's Deer Out™ deer repellent is all-natural and contains no chemical or poisons. That means it's safe for pets, safe for children, and safe for the environment. Deer Out™ doesn't kill deer, or harm them in any way; it simply keeps them out of your garden or field and away from the flowers, shrubs, vegetables, and fruit trees you want to protect. And it won't leave a film, stain, or discolor your plants.
100% Money-Back Guarantee
Deer Out™ works, plain and simple. We have over 100,000 repeat customers, and a large majority of our sales are from our "customers for life"—gardeners and farmers who swear by Deer Out™ to keep their plants safe. Deer Out™ comes with a 30 day money back guarantee.
Learn More About Deer Out™
If you'd like to learn more about LaTorre's Deer Out™ deer repellent, you can read the FAQs or check out some of the testimonials from our satisfied customers. Or if you're ready to give it a try, check out where you can buy or  submit an order form. Remember, we offer a 100% satisfaction guarantee—if Deer Out™ doesn't work for you, we'll gladly refund your money. So don't wait for plants to get munched—order today!